ABOUT MOONSTRUCK FIRE TRUCKS. . .
Who are we and where did we get our name?
OUR STORY:
Fire trucks are important to all of us. Everyone loves fire trucks. When you really love someone or something, it is said that you are Moonstruck. We really love our fire trucks, so................ Moonstruck Fire Trucks was established in San Antonio, Texas in December 2002.
---
OUR TRUCKS. . .
"Antique" 1975 American La France
Previous Owner: Courtdale Volunteer Hose Company of Luzerne County, Northeastern Pennsylvania - Engine 51

A pumper truck carries hoses, water, and tools to a fire. A pump on the truck can increase the pressure of the water in the hose so the water will reach farther. A pumper truck can pump 1,250 gallons of water (that's 15,000 glasses of water) a minute.
"Antique" 1925 Graham Brothers Detroit - Dodge
Previous Owner: American Legion Post 26, Baraboo, Wisconsin

Dodge Brothers Company entered into an agreement with the Graham Brothers Company in 1921 whereby Graham Brothers will use Dodge Brothers engines and sell their trucks through Dodge Brothers Dealers. With the Dodge deal the Grahams moved easily to Detroit, MI. Production soared from 1086 trucks to over 37,000 in 1926, making Graham Brothers the largest exclusive truck manufacturers in the world.
HISTORY OF 1920 FIRE TRUCKS
At one time the San Francisco Fire Dept. had over 450 horses. The stables, the enormous amount of feed, their shoeing, medical care, pasturage and other needs necessitated a new order of things. All these in turn have been supplanted by the motor-driven fire truck. San Francisco replaced its last steam engine in 1922, although there had been gasoline-powered buggies for chiefs as early as 1900. Replacement of the horse-drawn steamers was swift and sure by 1925.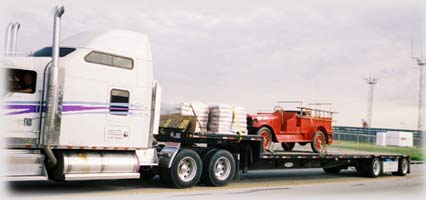 Yes it runs, but because of it's top speed of 30 mph, the 1925 Dodge is hauled to most events.
---
OUR STAFF. . .
---
KICKOFF PARTY